Modernize your Kelch, Trimos or Zoller tool presetter to 21st century
PresetCheck is a presetter software for Windows XP/2000/NT. It can be flexibly integrated to various manual presetter devices. It has a database of tools, adapters and machine tools used in the system. It fully replaces original electronics of a presetter, connecting directly to the scales.
Connectivity:
PresetCheck connects to linear scales of presetter with Heidenhain IK220 card. This highly accurate card supports scales giving sine-cosine signal and trigger signal from cross-hair projector. Thus PresetCheck can be connected to all presetter devices having Heidenhain scales and to great variety of scales from other manufacturers as well (Acu-Rite, RSF Elektronik).
PresetCheck can be integrated to Fastems FMS systems.
PresetCheck uses natively Access ™97 database via ADO interface. According customer demand, other database types can be used (Oracle, SQL server).

Measurement features:
Continuous and trigged measurement
Measurement parameters are selected according tool (diameter/radius, tolerance, nose radius compensation) and machine tool (adapter length)
Tools are identified by T-code, duplicate number and edge number
Measurement of both x- and z-value or only z-value according tool type
Shows graphical symbol of tool type
Shows drawing of tool
Tolerance check in saving of measurement
Locking of current measurement values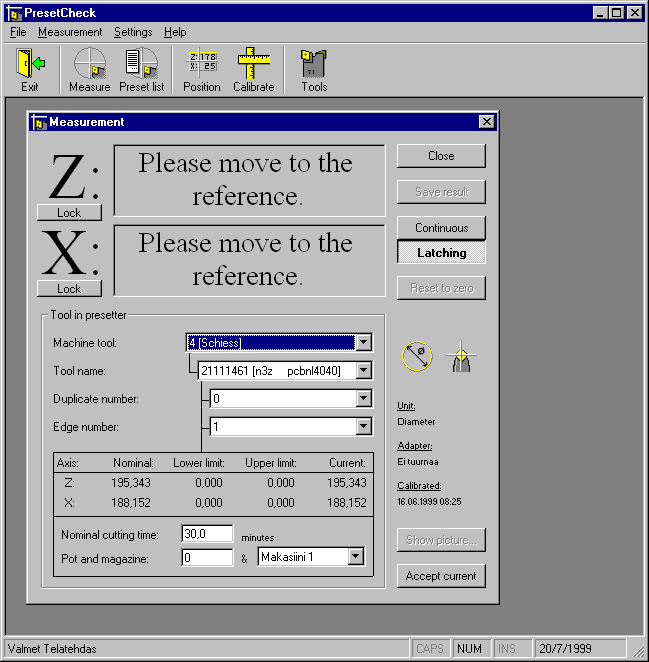 Measurement database:
Keeps list of tools measured during session
List of all measured tools
Search of tools
Print out of measured tools (current session, search results or all)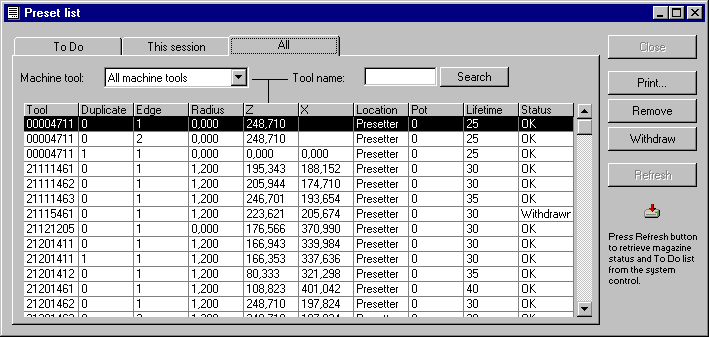 General features:
Prints labels for each measured tool
Prints out tool basic data
Definition of adapters for each machine tool
Tools can be associated to one or more machine tools
Calibration of presetter with tolerance check
Controls calibration interval of presetter
Linear scaling factors can be used to correct positioning errors of presetter
Multi-lingual user interface
On-line help
---
You can also download PresetCheck Demo (11.3 MB). This version doesn't need Heidenhain IK220 card, but it shows simulated measurement values.
View PresetCheck Brochure (1 page).
Specifications subject to change without notice. Copyright Qplus Oy 1998-2004. All rights reserved. Microsoft Access, SQL Server and Microsoft Windows are registered trademarks of Microsoft Corporation