CNCcomp-program calculates a pitch error compensation table for a numerical controller accurately, easily and fast. The calculation is based on laser interferometer measurement. Program runs in Windows XP/Vista/7 and 10. It is shipped with a comprehensive on-line help and an optional multi-language user interface.
CNCcomp 4.7 supports the following numerical controllers:

Siemens 800 series
Siemens 840D
Fanuc 0, 00
Fanuc 10, 11, 12, 100, 110, 120
Fanuc 15
Fanuc 16, 18, 21, 160, 180, 210
Fanuc 30, 31, 32, 300, 310, 320
Heidenhain TNC 426, 430, iTNC 530
Heidenhain ND 221B, 231B, 281B
Heidenhain ND 720, 760
Beckhoff TwinCAT CNC
Procedure:
Program is used first to read in a laser interferometer measurement, it calculates new compensation table, writes out a nc-program consisting this parameter table and then this file is sent by CNCcomp to a controller.
Measurement:
CNCcomp supports Keysight 5530 & 5529A (LIN-file), Heidenhain VM182 (VML-file), Jenaer ZLM, Renishaw XL-80 & ML10, Optodyne, API, and tabular text file formats. Support of other formats can be arranged upon request.
Unit conversion:
Program supports both metric units and inches. It is possible convert units from one to another and read in measurements in both units.
Language:
CNCcomp currently support English, German, Finnish, Traditional Chinese and Simplified Chinese. More language support can be provided upon request.
Cumulative compensation:
In the case of Siemens 840D, all Fanuc controllers, Heidenhain TNC, Heidenhain ND and Beckhoff TwinCAT CNC, it is also possible to compensate cumulative to the old compensation values. This speeds up measurement/compensation process significantly, because there is no need to clear compensations for a measurement.
Bi-directional compensation:
Fanuc 16, Fanuc 18, Fanuc 30 series and Beckhoff TwinCAT CNC support bi-directional pitch error compensation. This makes it possible to compensate uneven backlash and thus get a considerably more accurate machine tool.
Full automatic transmission and activation:
CNCcomp can transfer compensation tables and parameter files to Heidenhain ND-units with a single click. It operates remotely ND-unit by setting it to a correct state, transfers a new compensation table and parameter file and finally also activates them for you. Operation is thus very easy and bullet-proof!
User support:
Software includes an on-line help explaining procedure with each controller. Customers can also contact our support by email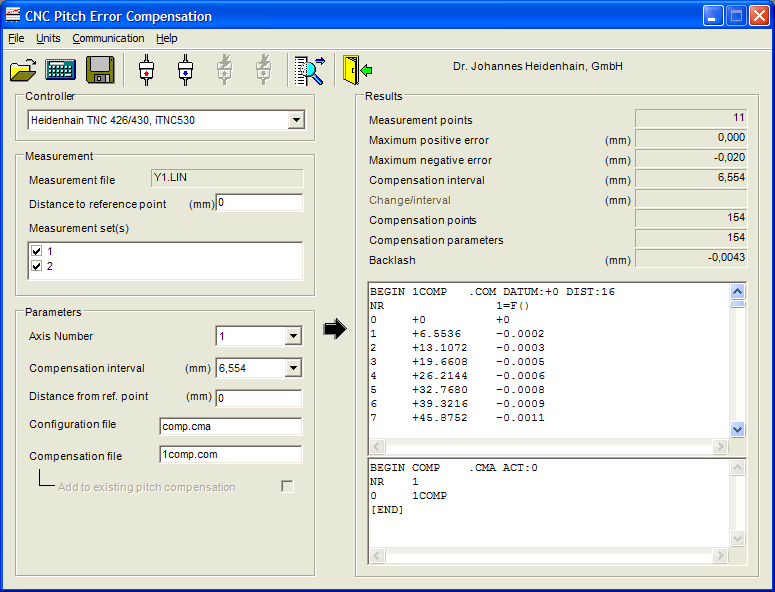 Pitch compensation screen for Heidenhain TNC
---
Download CNCcomp 4.7 demo version for Windows XP/Vista/7/10
Download a brochure in PDF-format (2 pages)
Download CNCcomp 4.7 User Guide in PDF-format (537K)
---
See how compensation table is generated for the following controllers:
Heidenhain ND 221B, 231B, 281B
---
Configuration requirements:
Any Intel/AMD processor, any display, Microsoft Windows XP, Vista, 7 Home and Professional.
Specifications subject to change without notice. Copyright Tampere University of Technology 1995-1997 and Qplus Oy 1997-2012. All rights reserved. Microsoft Access and Microsoft Windows are registered trademarks of Microsoft Corporation.