DBB Guidebook - Hardware
There are now two major DBB manufacturers, Heidenhain and Renishaw, in the market. They offer principally same kind of devices. Anyway there is some differences between them. The most important features are compared in the following table:
Heidenhain

Renishaw

Ball bar lengths (calibrated):
(non-calibrated lengths):
150, 200, 250, 300mm

100, 150, 300mm
250, 400, 450, 550, 600mm
Measurement range:
+/- 5mm
+/- 1mm
System accuracy:
+/- 1 micron
+/- 1 micron
Data capture:
IK121 ISA card
RS232
Max. capture frequency:
100'000 samples/s
250 samples/s
Calibration:
Internal reference mark
External calibrator
---
Heidenhain DBB110
Heidenhain ball bar has long measurement range is thus more suitable for robot measurements. This device needs a desktop or ISA slot equipped portable computer for measurements.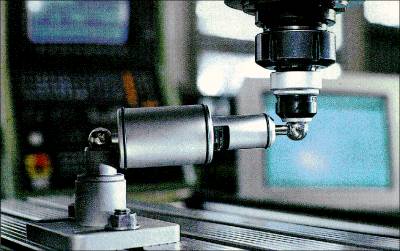 Heidenhain DBB110
Click here to get information on IK121 data capture card settings...
---
Renishaw QC10
Renishaw ball bar has a clever centering system which makes a measurement installation fast to set. When measurement equipment is connected via standard serial cable to computer, an ordinary notebook computer is enough for completing measurements.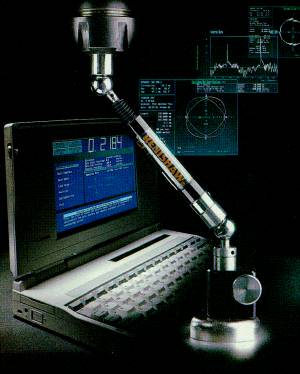 Renishaw QC10
Click here to see the measurement installation of Renishaw ball bar...